rue21 enters into definitive agreement to be acquired by funds advised by Apax Partners for $42.00 per share in cash
23rd May 2013
Apax
Apax Partners, a global private equity firm, today announced a definitive agreement under which funds advised by Apax Partners will acquire all outstanding shar
Apax Partners, a global private equity firm, today announced a definitive agreement under which funds advised by Apax Partners will acquire all outstanding shares of rue21
Warrendale, PA and New York, May 23, 2013 - rue21, inc. (Nasdaq: RUE), a leading specialty apparel retailer of girls and guys apparel and accessories, and Apax Partners, a global private equity firm, today announced a definitive agreement under which funds advised by Apax Partners will acquire all outstanding shares of rue21 for $42.00 per share in cash.  The transaction is valued at approximately $1.1 billion.  The transaction price represents a premium of approximately 23% to yesterday's closing share price and approximately 42% to the 90-day volume weighted average price (VWAP). 

The rue21 Board of Directors approved the agreement based on the unanimous recommendation of a Special Committee comprised of three independent directors: Bruce Hartman, Arnold Barron and Harlan Kent.  The Special Committee is being advised by Perella Weinberg Partners, as financial advisor, and Kirkland & Ellis LLP and Potter Anderson & Corroon LLP, as legal advisors.  Two rue21 directors who are partners of Apax recused themselves from Board discussions and the Board vote regarding the transaction.  Bob Fisch, rue21's Chairman, President and CEO, also recused himself from the Board vote. 

As part of the agreement, the Special Committee, with the assistance of its advisors, will conduct an initial 40-day "go-shop" process starting today during which it will actively solicit, evaluate and potentially enter into negotiations with any parties willing to offer a superior acquisition proposal.  The go-shop process provides for a low termination fee of 1% (approximately $10 million) to be paid to Apax.  rue21 management, including Bob Fisch, has not entered into any arrangements with Apax and is willing to work with any party that emerges through the go-shop process.

The SKM II funds, which collectively own approximately 30% of the outstanding shares of rue21, have entered into a support agreement to vote their shares in favor of the transaction with Apax. Pursuant to the terms of the support agreement, if the agreement with Apax is terminated and rue21 enters into a superior transaction, the SKM II funds have agreed to vote their shares in favor of such superior transaction on the same pro rata basis as unaffiliated stockholders.  In addition, the transaction with Apax is subject to approval by a majority of the rue21 shares excluding SKM II's shares. The SKM II funds were established in 1998 and the rue21 stake is their last remaining investment.  Since 2005, the SKM II funds have been associated with Apax Partners.   The SKM II funds were independently advised in this transaction.

Bruce Hartman, Chairman of the Special Committee, stated, "This transaction is the result of diligent analysis and thoughtful deliberations by the Special Committee over many months with the assistance of our advisors.  This all-cash transaction delivers substantial and certain value, and we believe it is in the best interests of rue21 stockholders.  To ensure we are maximizing value for rue21 stockholders, we are also committed to running a comprehensive go-shop process to determine if there are any superior alternatives that may exist to the Apax transaction."

John Megrue, Chief Executive Officer of Apax Partners U.S. and Partner in the firm's Retail & Consumer team, said,  "We are very proud of the growth that rue21 has achieved.  I have worked closely with Bob Fisch to support the Company's growth from less than 100 stores at the time of the initial investment in 1998 to over 900 stores today, and Apax is excited to continue the journey with the Company's senior management team."

Bob Fisch, Chairman, President and CEO of rue21, said, "Thanks to the hard work of our associates, rue21 has generated strong top and bottom line growth both as a private company and as a public company.  We are proud that a sophisticated investor such as Apax continues to believe in our core strategy and recognizes our value-generating capabilities.  This transaction will allow us to focus on achieving our long-term objectives, including growing our business to over 1,700 stores in the U.S. and successfully implementing new initiatives such as e-commerce and rueMan.

Preliminary First Quarter 2013 Results

rue21 also announced preliminary earnings per share and comparable store sales results for the first quarter ending April 30, 2013.  Net sales for the quarter increased 9.1%, while comparable store sales decreased 4.6% from the year-ago quarter.  Diluted EPS is expected to be $0.44. 

Commenting on the results, Fisch said, "This quarter rue21 was impacted by the same challenges that affected the entire industry - unseasonably cool weather, higher payroll taxes and delayed tax refunds.  All of these factors affected shopping patterns and resulted in a tougher quarter than we had forecasted in terms of sales growth.   Looking ahead we expect both the weather and consumer spending to improve and believe our 2013 strategic initiatives, including opening 125 stores in 2013, will allow us to deliver consistent, strong profit growth to our stakeholders."

rue21 will announce full first quarter fiscal 2013 results on June 5, 2013, and host a conference call that day at 4:30 p.m. Eastern Time. The conference call will also be webcast live at www.rue21.com under the Investor Relations section.  A replay of this call will be available on the Investor Relations section of the Company's website, www.rue21.com, within two hours of the conclusion of the call and will remain on the website for 90 days.

Additional Transaction Details

The transaction is expected to close before the end of calendar 2013, subject to approval by the majority of the stockholders unaffiliated with the SKM II funds as well as customary closing conditions.  The transaction is not subject to financing.  Following completion of the transaction, rue21 will remain headquartered in Warrendale, Pennsylvania.
Perella Weinberg Partners is acting as financial advisor to the Special Committee of the rue21 Board of Directors.  Kirkland & Ellis LLP and Potter Anderson & Corroon LLP are acting as legal advisors to the Special Committee.
J.P. Morgan Securities LLC (lead advisor), BofA Merrill Lynch and Goldman Sachs are providing financial advice to Apax.  Committed debt financing for the transaction is being provided by BofA Merrill Lynch, J.P. Morgan and Goldman Sachs.  Simpson Thacher & Bartlett LLP and Richards, Layton and Finger, P.A. are acting as legal advisors to Apax Partners.  Ropes & Gray LLP is acting as legal advisor to the SKM funds.
About rue21, inc.
rue21 is a leading specialty apparel retailer offering exclusive branded merchandise and the newest trends at a great value. rue21 currently operates 932 stores in 47 states. Learn more at www.rue21.com.
About Apax Partners
Apax Partners is one of the world's leading private equity investment groups. It operates globally and has more than 30 years of investing experience. Funds under the advice of Apax Partners total over $40 billion. These Funds provide long-term equity financing to build and strengthen world-class companies.

Over the past 10 years, funds advised by Apax have invested approximately $6.3 billion of equity in retail and consumer businesses. Apax has extensive experience in fashion apparel, footwear and accessories through current and previous investments including Tommy Hilfiger Corporation, an apparel retail company and one of the world's leading lifestyle brands, which was acquired by PVH Corp. Apax also partnered with PVH in the company's successful acquisition of Calvin Klein. Other fund investments include Advantage Sales & Marketing, the premier outsourced sales and marketing services provider to consumer packaged goods companies and retailers in North America, and Cole Haan, a leading designer and retailer of premium footwear and related accessories. Internationally, funds advised by the firm are currently invested in New Look, a UK-based value fashion retailer and Takko, a value apparel retailer operating in Germany, Central Europe and Russia. Notable investments in retail and consumer businesses by Apax include Dollar Tree, Children's Place, Bob's Discount Furniture, Sunglass Hut, Charlotte Russe, Tommy Bahama, Hibbett Sporting Goods, Teavana, Ollie's Bargain Outlet, Comark, CBR, Lifetime Fitness, Spyder Active Sports, Miller's Ale House and Café Rio.
Important Additional Information and Where to Find It
In connection with the proposed transaction, rue21 intends to file a proxy statement with the Securities and Exchange Commission (the "SEC") and mail it to its stockholders. Stockholders of rue21 are urged to read the proxy statement and the other relevant material when they become available because they will contain important information about rue21, the proposed transaction and related matters. STOCKHOLDERS ARE URGED TO CAREFULLY READ THE PROXY STATEMENT AND THE OTHER RELEVANT MATERIALS WHEN THEY BECOME AVAILABLE BEFORE MAKING ANY VOTING OR INVESTMENT DECISION WITH RESPECT TO THE PROPOSED MERGER. The proxy statement and other relevant materials (when available), and any and all documents filed by rue21 with the SEC, may also be obtained for free at the SEC's website at www.sec.gov. In addition, investors and security holders may obtain free copies of the documents filed with the SEC by rue21 by directing a written request to rue21, Attention Corporate Secretary, 800 Commonwealth Drive, Warrendale, Pennsylvania, 15086.

This announcement is neither a solicitation of proxy, an offer to purchase nor a solicitation of an offer to sell shares of rue21. rue21, its executive officers and directors may be deemed to be participants in the solicitation of proxies from the security holders of rue21 in connection with the proposed merger. Information about those executive officers and directors of rue21 and their ownership of rue21 common stock is set forth in the rue21 proxy statement for its 2013 Annual Meeting of Stockholders, which was filed with the SEC on April 26, 2013, and its Annual Report on Form 10-K for the year ended February 2, 2013, which was filed with the SEC on April 3, 2013. These documents may be obtained for free at the SEC's website at www.sec.gov, and from rue21 by contacting rue21, Attention Corporate Secretary, 800 Commonwealth Drive, Warrendale, Pennsylvania, 15086. Additional information regarding the interests of participants in the solicitation of proxies in connection with the transaction will be included in the proxy statement that rue21 intends to file with the SEC.

Forward-Looking Statements
This release may include predictions, estimates and other information that might be considered forward-looking statements, including, without limitation, statements relating to the completion of this transaction. These statements are based on current expectations and assumptions that are subject to risks and uncertainties. Actual results could differ materially from those anticipated as a result of various factors, including: (1) rue21 may be unable to obtain stockholder approval as required for the transaction; (2) conditions to the closing of the transaction may not be satisfied; (3) the transaction may involve unexpected costs, liabilities or delays; (4) the business of rue21 may suffer as a result of uncertainty surrounding the transaction; (5) the outcome of any legal proceedings related to the transaction; (6) rue21 may be adversely affected by other economic, business, and/or competitive factors; (7) the occurrence of any event, change or other circumstances that could give rise to the termination of the transaction agreement; (8) the ability to recognize benefits of the transaction; (9) risks that the transaction disrupts current plans and operations and the potential difficulties in employee retention as a result of the transaction; and (10) other risks to consummation of the transaction, including the risk that the transaction will not be consummated within the expected time period or at all. Additional factors that may affect the future results of rue21 are set forth in its filings with the SEC, including its Annual Report on Form 10-K for the year ended February 2, 2013, which is available on the SEC's website at www.sec.gov. Readers are cautioned not to place undue reliance on these forward-looking statements, which speak only as of the date thereof. Except as required by applicable law, rue21 undertakes no obligation to update forward-looking statements to reflect events or circumstances after the date thereof.
Contacts

rue21 Media Contact
George Sard/Andrew Cole/Brooke Gordon
Sard Verbinnen & Co
t: +1 212 687 8080
e: bgordon@sardverb.com
Joseph Teklits/Jill Gaul
ICR, Inc
t: +1 203 682 8200
e: jteklits@icrinc.com
e: jill.gaul@icrinc.com
Apax Partners Media Contact
Sarah Rajani
Apax Partners
t: +44 20 7872 6573
e: sarah.rajani@apax.com
US Inquiries
Todd Fogarty
Kekst & Company
t: +1 212 521 4854
e: todd.fogarty@kekst.com
Company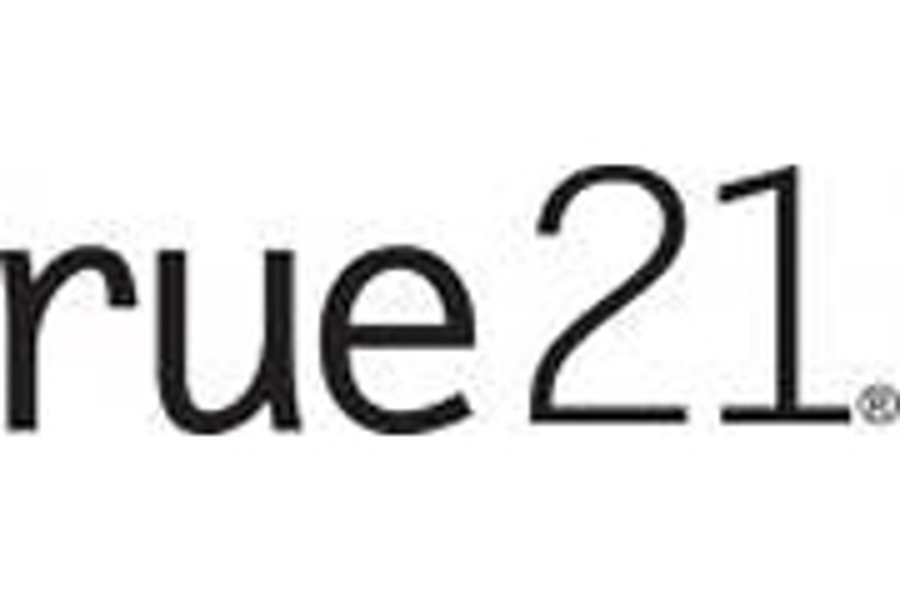 Global media contact